Atelier Ellis ViLà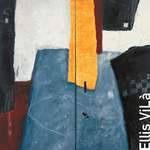 Elisabeth Viesel Läufer, born in Triberg (Black Forest), lives and works in Konstanz (Lake Constance, Germany).
Upcoming Exhibitions
STÄDTISCHES MUSEUM ENGEN + GALERIE
so-viel-franko-phil
7.7. – 9.9. 2007
STÄDTISCHE GALERIE VILLA BOSCH RADOLFZELL
Künstlerpaare (Couples)
18.1. – 9.3. 2008
Online Exhibition
Ellis ViLà is featured in the IBC (Internationaler Bodensee-Club) Online Exhibition.
Background
Studies in art history, art education and English literature in Freiburg, Hamburg and abroad. Publication: the biography of theatre and film director Detlef Sierck / Douglas Sirk (SKEPTIKER DES LICHTS, Fischer Cinema, 1987). Studies in Informal Painting at the School of the Art Institute of Chicago, at the European Art Academy at Trier and the Federal Art Academy at Wolfenbüttel.
Important teachers: Rolf Thiele (Bremen), Claude Mancini (Paris), Rolf Viva (Béning-lès-Harprich), Wolf Pehlke (Karlsruhe), Christof Kohlhofer (Karlsruhe & Los Ángeles)
Past Exhibitions
Spiralbilder von Ellis ViL&agrave, Konstanz
GALERIE GUNZOBURG
Aufkircher Straße 3
88662 Überlingen
8. bis 29. April 2006

GALERIE HILTON BERLIN
Wintergartenfoyer 1. Etage
Mo - Fr 9 - 12 · Sa + Su 10 - 14
Bis 5. März 2006

10 Dingelsdorfer
Foyer der AOK Konstanz Inselgasse 30 78462 Konstanz
7.10. – 4.11.2005

viel-franko-phil Malerei von Ellis ViLà
Rathausgalerie Konstanz Kanzleistraße Konstanz 78462 Konstanz
04.10. – 27.10.2000

Various solo and group exhibitions in Germany and abroad. Selected solo exhibitions:

Amriswil (CH), Bodman-Ludwigshafen, Bregenz (A), Fontainebleau (F), Gottlieben (CH), Ingré-Orléans (F), Konstanz, Kreuzlingen (CH), Meersburg, München, New York (USA), Öhningen, Radolfzell, Saran-Orléans (F), Singen, Tabor (C), Überlingen, Villingen.

All content of this site copyright © 2001-2005 by Atelier Ellis ViLà